News Archives - 2012
Moksnes named to Augsburg College Board of Regents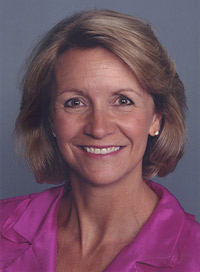 MINNEAPOLIS — Pam (Hanson) Moksnes, an independent management consultant, was elected this fall to serve a four-year term as a member of the Augsburg College Board of Regents.
Moksnes '79 holds a bachelor's degree in psychology from Augsburg College and formerly was a partner at Thrivent Financial for Lutherans.
"Augsburg has made a tremendous impact on me personally and professionally," Moksnes said. "Connecting an excellent education to leadership, service, and stewardship is a hallmark of Augsburg, which makes a top education relevant in our world. Serving on the Augsburg Board of Regents is an honor as we work together to carry out this legacy."
As a volunteer at Augsburg, Moksnes has demonstrated passion for financial literacy and leadership for women. She was instrumental in several Women's Connections events at the College and currently is involved with the Augsburg Women Engaged initiative.
She—along with her husband, Mark Moksnes, an executive vice president at Delta Dental—has been among the College's most engaged alumni, with generous gifts to support athletics, campus ministry, the Lindell Library, Oren Gateway Center, and the Maroon & Silver Society.
As a Board of Regents member, Moksnes will serve on the enrollment management and marketing committee. "Pam is a true friend of the College," said Augsburg College President Paul C. Pribbenow. "Our Augsburg community is blessed by her abundance of talent and passion and commitment. We are truly fortunate to have her leadership as we fulfill our mission to prepare students for lives of purpose."
Moksnes, a Certified Financial Planner, has served on the Fellowship of Christian Athletes state board and is currently vice chair of the Lutheran Church Extension Fund National Board of Directors. She served for six years on the board of directors for the Lupus Foundation of Minnesota, including serving three as chair. Moksnes attends Cross View Lutheran Church in Edina, Minn.
In addition to Moksnes' appointment, the Augsburg Corporation this year elected three other individuals to four-year terms on the Board of Regents. They include:
– Jennie Carlson, executive vice president of human resources for U.S. Bancorp;
– Curt Sampson, chairman and director of Canterbury Park Holding Corporation; and
– Steve Wehrenberg, chief executive officer of Campbell Mithun.
Jodi Harpstead, CEO of Lutheran Social Service of Minnesota, was elected chair of the Augsburg College Board of Regents at its May 2012 meeting and began her term on July 1.
Augsburg College is set in the vibrant Cedar-Riverside neighborhood of Minneapolis, and offers more than 50 undergraduate majors and nine graduate degrees to more than 4,000 students of diverse backgrounds. The trademark of an Augsburg education is its emphasis on direct, personal experience. Guided by the faith and values of the Lutheran church, Augsburg educates students to be informed citizens, thoughtful stewards, critical thinkers, and responsible leaders.