News Archives - 2012
Strommen Center for Meaningful Work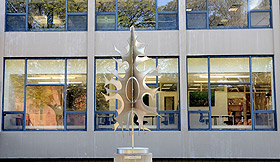 In today's economy, prospective students and their families are searching for clear evidence that a college education is a worthwhile investment. Thanks to the dedication of a generous donor and the good work of members of the Augsburg community, the College is able to demonstrate the real-world value of liberal arts and professional education in ways not before possible.
When the College on September 28 hosts the dedication ceremony for the new Clair and Gladys Strommen Center for Meaningful Work, the event not only will celebrate the generosity of the Strommens but also how the entire Augsburg educational experience prepares students for post-graduate success.
The Center originally was established in 2009 and was located in Anderson Hall. A recent gift from Mrs. Strommen meant the College could move its career and internship services to the Christensen Center. Now just steps from the admissions office suite, the Center is the first stop on the College's campus tours for prospective students and their parents. Tours begin with a discussion of how the an Augsburg education prepares students for meaningful work.
"Parents want to know that their investment in an Augsburg education will lead to employment," said Marissa Machado, senior associate director of admissions. "When student ambassadors take families on a tour of campus and showcase the Strommen Center as an initial talking point, they 'connect the dots' between the Augsburg degree and successful job placement."
New location puts College commitment at campus core
The more visible and accessible location on the main level of Christensen Center places at the campus core the College's commitment to student success beyond graduation. The Strommen Center's renovated and re-imagined space will actively promote purposeful living and meaningful work by connecting liberal arts and professional knowledge with talent, faith, and core values.
The planning and construction of the Strommen Center [pictured] occurred during spring and summer 2012. The relocation of the Center was an important component of Augsburg's commitment to make the best use of its existing space through the Campus Space and Master Plan, which was described earlier this month in the "Auggies are on the move" story.
College welcomes new director
In addition to announcing the Strommen Center's new location, Augsburg College is pleased to welcome Keith Munson as director of Career and Internship Services for the Strommen Center for Meaningful Work effective October 25.
"Keith will lead our exceptional team dedicated to providing the internship, career, and vocational services our students and alumni require," said Amy Gort, assistant vice president and dean of arts and sciences. "We expect students to seek out these services now more than ever due to the Strommen Center's new, highly visible location. Career and internship services will be the keystone for the Center, which lives out Clair and Gladys' personal commitment to vocation each and every day."