News Archives - 2012
Augsburg student expands classroom knowledge through international travel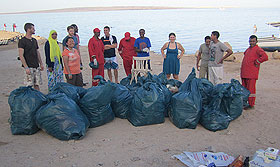 For Mai Sia Yang '12, learning through first-hand experience is the best way to expand her world view.
Yang enrolled in an Egypt study abroad course after serving on an Egyptian delegation that represented the Economic and Social Council at Model United Nations (Model UN). This year, Augsburg College offered a Model UN class, and its student delegates represented Egypt at the organization's conference in New York City during May. Yang's committee addressed the topic of sustainable development, and she expanded the knowledge she gained in the classroom by visiting the nation.
While on the study abroad trip, Yang and other students explored how grassroots civic engagement impacts modern Egypt following its largely youth-led 2011 revolution.
Egypt study abroad organizer Joe Underhill, associate professor and chair of political science, explained, "This was a golden opportunity to study social change. A number of students mentioned that they felt like they were watching history in the making, which was absolutely true."
"The trip gave me better insight into Egypt's politics," Yang said. "What I learned during my research for Model UN was just a fraction of what I learned in Egypt. By meeting with nongovernmental organizations, I saw that the government has blocked its own people from taking the initiative to address problems in a sustainable way. If I had gone to Egypt before Model UN, I would've represented Egypt in a much better way."
Yang would have strengthened her delegacy, she said, by highlighting the nation's prominence within its region. "If I had represented Egypt at Model UN after the trip, I would have shown it as more of a leader of the Arab and African nations," she said. "Although my partner and I knew that we were a leader in the region, I don't think that we—as the Egyptian delegation—expressed that enough."
Yang's newly garnered savvy will not, however, go to waste. She discussed the issues Egypt faces in its conservation of natural resources in a trip follow-up presentation, and she plans to continue sharing the knowledge she gained during her college years and from the Egypt trip, specifically, for the rest of her life.
"Throughout my education at Augsburg I saw that what I learned in class related to real life," Yang said. "By ending my Augsburg education with the trip, I broadened my view of the world in a way that makes me want to be involved in the future."
Yang developed a love of traveling and passion for volunteering through her experiences at Augsburg. The Egypt trip sparked a desire to "see the world for what it is and not what I am told," she said. "I want to travel to different countries to work and volunteer my time to help those in need. I want to have fun but also see that where I go and what I do changes someone's life for the better."
After witnessing the fluid nature of contemporary Egyptian society, Yang said she will implement changes in her daily life in the U.S. so that she can become a more engaged citizen and ensure that vital issues are brought to the surface in her own country, as well.
"During the trip I met many Egyptians who were not afraid to voice their opinion about the government and how they felt about changes," she said. "The people found solutions to problems that the government could not solve. I was inspired by the energy of the Egyptian people. I don't think I can continue through life without being inspired by the Augsburg mission because Augsburg gave me a better experience than I could have ever imagined."
Photo caption: Augsburg students and professors helped conserve the Egyptian marine ecology by collecting trash in the Red Sea. Their actions inspired locals to join in the effort. Photo courtesy of Joe Underhill.