News Archives - 2012
Minnesota students — We need you at the Capitol!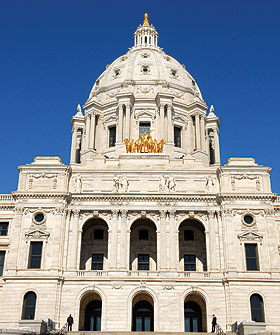 Every spring, the Minnesota Private College Council sponsors Day at the Capitol. It is an opportunity for students to meet with their legislators to advocate for the Minnesota State Grant program. This program provides critical support, helping make higher education possible for one out of three Minnesota college students from low- and middle-income families. The state invested $120 million in aid in the most recent academic year, helping more than 88,000 students.
Legislators need to hear from you about the importance the State Grant program to your education. Without those funds, what would you do? Tell them!
Augsburg College Day at the Capitol
Wednesday, March 14, 9:15 a.m.- 2:15 p.m.
9:15 a.m. Boarding bus in front of Music building
10 a.m. Meeting with Minnesota Private College Council representatives with training on what to say to each Representative and Senator during this session. Learn more about the Minnesota State Grant program.
11:30 a.m. Meeting with State Representative or State Senator from student's home district.
12:15 p.m. Lunch break. Augsburg pays for lunch.
1 p.m. Meetings with State Representative or Senator and Governor or Governor's staff.
1:30 p.m. Augsburg students gather at the meeting room along with Concordia College, Gustavus Adolphus College to discuss what worked during the day and future challenges. Legislative leaders from both political parties attend
2 p.m. Bus back to Campus.
More information: http://www.mnprivatecolleges.org/events-news/upcoming-events/day-capitol-2012
Registration: http://www.mnprivatecolleges.org/day-capitol-registration