News Archives - 2012
Christensen Symposium features Interfaith Youth Core founder Eboo Patel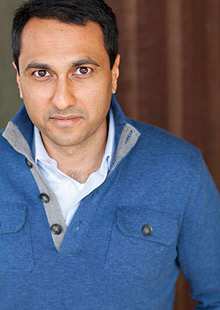 Eboo Patel, founder and president of the Interfaith Youth Core (IFYC), will speak at the 2012 Bernhard M. Christensen Symposium convocation at 11 a.m. on Sept. 18.
Patel, who will speak on the "Holiness of Common Ground," was named one of America's Best Leaders of 2009 by U.S.News & World Report.
IFYC is based in Chicago and is devoted to building the interfaith movement on college campuses.
Patel's visit to Augsburg fits well with the College's commitment to interfaith dialogue, neighborhood service, and intentional diversity. The visit also will further the work and support Augsburg contributes to President Obama's Interfaith and Community Service Campus Challenge, a project launched during 2010 to engage students in interfaith discussion and community service.
Learn more about the history of the Christensen Symposium and its 2011 convocation speaker, Walter Brueggeman, from the Inside Augsburg News Archives.
Augsburg's 2012-13 Convocation Series of speakers explores the impact that an individual can have in a global population of 6.7 billion people. Presentations touch on topics in the arts, humanities, and sciences.
Each session offers an opportunity to hear from leaders in their areas of expertise. Psychiatrist and author Dr. Henry Emmons will discuss the "Science of Hope" during the Center for Counseling and Health Promotion Convocation to be held Friday and Saturday, Oct. 19-20.
Christensen Symposium Event Schedule
September 17
– 4 p.m. - Hoversten Chapel | Tilling Common Ground: Interfaith Work at Augsburg
– 7:30 p.m. - Marshall Room | Creating Common Ground: The Arts as a Bridge for Interfaith/Intercultural Work
September 18
– 11 a.m. - Hoversten Chapel | The Holiness of Common Ground
Convocation Hashtags
Share your convocation experience using social media. The hashtag for the Christensen Symposium with Eboo Patel (@EbooPatel) of Interfaith Youth Core (@IFYC) is #ChristensenSymp. Other hashtags include #Interfaith and #CommonGround.