News Archives - 2012
Everybody knows somebody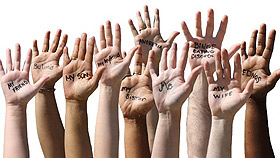 Everybody knows somebody with an eating disorder.
According to the National Eating Disorders Association, in the United States, as many as 10 million females and 1 million males are fighting a life and death battle with an eating disorder such as anorexia or bulimia. Millions more are struggling with binge eating disorder. The National Institute of Mental Health states that one out of five women in the U.S. struggle with an eating disorder or disordered eating. Increasingly, males are also being affected by eating disorders, as an estimated 10 to 15 percent of those with anorexia or bulimia are men and boys.
Again this spring, the Center for Counseling and Health Promotion in collaboration with the Women's Resource Center, Athletics, and the Student Feminist Collective, is sponsoring a week of events in conjunction with National Eating Disorder Awareness Week, February 27-March 2.
Monday, February 27
Noon-2 p.m.
Christensen Center Lobby
"You are Beautiful Tabling"
Stop by our table to pick up information on health body image and send "You are Beautiful" cards to your friends to remind them of their beauty!
Tuesday, February 28
6-7 p.m.
Oren Gateway Center, Room 100
Mindful Eating Event (free dinner included)
Come experience the power of mindful eating including free dinner with guided mindfulness instruction by Alex Haley, experienced local teacher.
Wednesday, February 29
Noon-2 p.m.
Christensen Center Lobby
"Everybody knows somebody Tabling"
Information and resources on healthy eating and other resources on eating disorders and how to help a friend.
6:30-8 p.m.
Marshall Room, Christensen Center
"Beauty Mark"
Come see documentary by former world-class triathlete Diane Israel about body image issues for athletes and others. Discussion afterwards will be facilitated by Carlin Anderson, PhD, LP, sports psychologist for the athletics department at the University of Minnesota
Thursday, March 1
11 a.m.-Noon
Christensen Center Lobby
Nourishing Your Body, Mind, and Spirit
Get your nutrition questions answered by Nutritionist Kay Guidarelli. Trash negative body talk and pick up positive reminders for yourself and friends of how unique and beautiful everybody is.
For more information, contact Dianne in the CCHP office at 612-330-1707