News Archives - 2012
Ash Wednesday marks beginning of Lent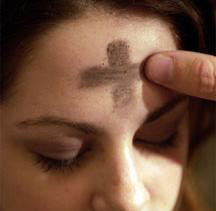 By Jeanette Clark '07, campus ministry associate
This Wednesday, February 22, is Ash Wednesday. All are invited to worship at 10:20 a.m. and 9:09 p.m. At both services, there will be Communion and the imposition of ashes.
Ash Wednesday is the start of Lent in the Western Christian calendar. Lent is the forty days (excluding Sundays) before Easter where Christians practice intentional reflection and meditation. In particular, they focus on ways that they are broken and do not follow God's call to love God and love their neighbors. Though this may sound harsh, many Christians find it to be a freeing and helpful experience because it allows us to be honest about who we are and our shortcomings. This time period also reminds Christians of how Jesus retreated into the wilderness and fasted and prayed for forty days before he began his ministry. Some Christians will "give up" things such sweets or watching television in order to either remind themselves of the way in which Jesus suffered during his life or to help themselves from being distracted from their spiritual growth. In many traditions, people fast during the Lent seasons. Other Christians will "take on" something such a community service or intentional study of scripture in order to understand more about Jesus' way of life. Many participate in forms of confession where they tell a pastor or confidant about the things they have done that they are ashamed of and receive a word of promise that God forgives them for those wrongdoings.
Ash Wednesday is always the seventh Wednesday before Easter. On Ash Wednesday, many Christians attend church and have a sign of the cross put on their foreheads in ashes. As the pastor is placing the cross on the person's forehead, they will say, "Remember you are dust, and to dust you shall return." (Genesis 3:19) This practice reminds Christians that they are broken people and helps them to be humble before God.
Lent ends in Holy Week. Maundy (Holy) Thursday remembers Jesus' final meal with his disciples and commemorates how Christians came to practice Communion. It also tells the story of how Jesus washed His disciple's feet and reminds Christians that they are called to serve each other. Good Friday is the day that Christians remember Jesus' crucifixion on the cross.
Lent ends with the celebration of Easter. The somber tone of Lent is broken with joyful singing, music and flowers. Churches tell the story of how Jesus was raised from the dead and celebrate the hope that this miracle gives them.