News Archives - 2012
Mardi Gras Madrigals celebrates seventh year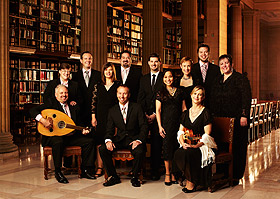 Celebrate Mardi Gras medieval style. Next Tuesday, February 21, The Goliard Society of Medievalists will present Mardi Gras Madrigals, a full medieval feast with music and stories, and food based on historic recipes—eaten without utensils, of course.
This year is the seventh year for Mardi Gras Madrigals (MGM), which has become an Augsburg tradition. The Goliards, a student club interested in promoting the study and enjoyment of the Middle Ages, first began hosting the event in 2006.
Guests at the 2012 edition of MGM will hear music from Augsburg and beyond. There will be a Celtic folk band and a woodwind quintet, as well as the Schola Goliardi, a quintet of singers performing comic songs from PDQ Bach. The Minneapolis Sough High School Varsity Choir will also perform Renaissance madrigals.
This year's MGM will also feature the internationally acclaimed Rose Ensemble (pictured here). Founded in 1996, The Rose Ensemble reawakens the ancient with vocal music that stirs the emotions, challenges the mind, and lifts the spirit. The Saint Paul group tours internationally with repertoire spanning 1,000 years and 25 languages.
MGM has more than just music. It will also have the midwest premier of a 15th-century comedy, "The Farce of the Fart." Directed by Nathan Keepers, formerly of Theatre de la Jeune Lune, and featuring Augsburg student actors, this touching and moving theatrical piece deals with the conflicts of marital life, and the eternal question: "Who farted?"
The food at MGM is prepared by Aviands, based on historic recipes. This is consistently one of the most memorable parts of the evening. The feast is like nothing you get in the dining commons. Try the bread, served in full loaves that you have to tear apart with your hands.
MGM is generously supported by the Office of Undergraduate Admissions. One of MGM's best features is that it invites future Auggies from area high schools to come and join in the fun. They always have a blast, and many of them end up coming to Augsburg.
Here's the best part: Augsburg students attend free of charge. Thanks to a generous grant from student government, Auggies with a valid student ID can attend this event free of charge. Medieval dinner and a show, free!
Mardi Gras Madrigals is a popular event and reservations are encouraged. The festivities take place on Tuesday, February 21 in Hoversten Chapel. Doors open at 6:30 p.m. Box office opens at 6 p.m.
Tickets are $20. FREE for Augsburg students with ID. For reservations go to www.augsburg.edu/mardigras.
*** ADVANCE TICKETS ARE ONLY AVAILABLE UNTIL 4 P.M. TUES. FEB. 21 *** TICKETS WILL BE AVAILABLE AT THE DOOR ***