News Archives - 2011
Katie Edelen: Triple majors, triple major awards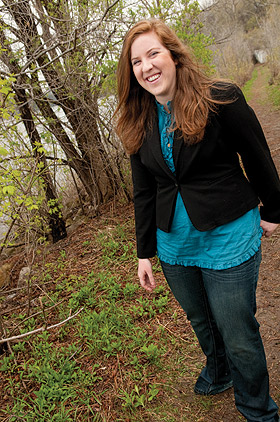 The last six weeks have been an amazing ride for Katie Edelen. Not only is it unusual to graduate with three majors, but it's extremely remarkable to receive both a Fulbright Grant and a Rotary Ambassadorial Scholarship, as well as one of Augsburg's major awards.
Edelen was awarded both BA and BS degrees on Saturday with majors in environmental studies, chemistry, and biology. She was also called to the podium to accept the Marina Christensen Justice Award, presented to the graduating senior who best exemplifies Augsburg's motto, "Education for Service," and has demonstrated a dedication to community involvement. The award honors 1965 graduate Marina Christensen Justice, who lived in Chicago and reached out to serve disadvantaged people and communities.
An Honors Program graduate, Edelen was a Sabo Scholar in civic engagement and a Peace Prize Forum Peace Scholar. Throughout her four years, she challenged herself to find opportunities that would provide her knowledge across disciplines and hands-on learning. She seeks a career that combines application of science to public policy decisions that will improve the lives of people in countries lacking services, equal access to resources, and just policies.
Edelen decided against a medical career as she discovered how treating disease can ameliorate its symptoms but doesn't remove the underlying structural causes. As an intern in both rural India and Uganda, she saw how lack of access to clean water extenuates the effects of disease and poverty. This led to internships with the White House Task Force on Climate Change and Energy Policy and with local environmental groups to learn how to translate and bring science to community issues, and how to build common interest to create change in public policy.
For almost three years as a Sundquist Scholar and with national grants, Edelen carried out research in atmospheric chemistry with Professor David Hanson, investigating the oxidation mechanism and atmospheric interactions of isoprene, a volatile, organic compound. She presented the research in the student session at the American Association for the Advancement of Science (AAAS) annual meeting and is awaiting a decision on publication.
For the next year, Edelen's Fulbright will take her to Oslo, Norway, continuing research that she began last summer as a Peace Prize Forum Peace Scholar at the Oslo Peace Research Institute. She'll study the relationship between lack of access to water and armed conflict in the world.
Edelen received word last week that she has also been awarded a Rotary Ambassadorial Scholarship for the following year, 2012-13. The scholarship covers all expenses for one year of graduate study.
She does not yet know at which of the five institutions she selected—in England, New Zealand, South Africa, Denmark, and Egypt—she will be placed. All five programs study environmental management and policy, some focusing specifically on water resources. Her first choice is Oxford University's Master of Science in Water Science, Policy, and Management.