News Archives - 2009
A good year for physics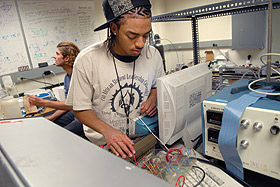 This has been a very good year for the Augsburg College Physics department when it came to securing research funding.
While Augsburg has had long history of obtaining research dollars from the National Science Foundation, an influx in stimulus money allowed the NSF to distribute more grants than in previous years.
As a result, professors Mark Engebretson, David Murr, and Ben Stottrup secured funding of $1,242,983 during 2009.
"It's unusual for a school to have that much research and to have it distributed over that many faculty members," Murr said. "We've shown we can have an actual research program while being true to the mission of the college. It can mesh with the teaching of undergrads. It doesn't have to be separate."
The nearly $1.25 million of research funding landed by the Augsburg Physics department was more than what almost every Minnesota private college received in total. Carleton College, for example, received $786,504 in NSF grants, Concordia College (Moorhead) secured just more than $850,000 while Gustavus, St. Catherine University and St. Mary's University all received less than $500,000 from NSF.
Macalester and St. Olaf had institutional totals greater than the Augsburg physics department, but those totals came from across several science disciplines. St. Olaf, for example, had professors in mathematics, physics, and biology contribute to its total. Macalester had professors in mathematics, geology, chemistry, political science, and biology receive NSF funding.
No private college in Minnesota obtained more funding from its physics department than Augsburg's. Augsburg also receives funding each year as part of money received by the state from NASA.
The bump in funding came in part from the $800 million federal stimulus bill as more than $20 billion was set aside for scientific research.
"It certainly increased our odds," Murr said.
Previously, the NSF put proposals in one of three categories: Projects that received funding, projects they liked but didn't have enough money for, and projects that weren't going to be funded. The stimulus money was used, in part, to fund proposals that were in the 'if we had the money' pot.
Some of the research dollars will be used to fund ongoing research in the physics department including work around solar wind.
In addition, the funding will allow for the purchase of 10 advanced GPS receivers—at about $35,000 each—that will be installed in the arctic and in Minnesota; curriculum around nanotechnology will be developed in conjunction with the University of Minnesota and Saint Paul College, and Antarctic research with Noel Petit in computer science will continue.
The research funding also allows for many Augsburg undergraduate physics students to be involved in research either during the school year or over the summer. Murr said at least one-third of physics students do summer research and about half are involved in some way.
"For our students, it's not unusual anymore," Murr said.
Just as important is the culture of research that is being established.
"We can help each other in regard to submissions," he said. "We can look at what's been successful, what works and what hasn't been successful."