News Archives - 2009
Innovation is not an accident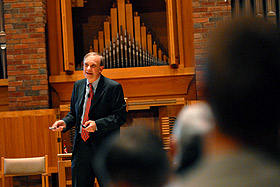 If the 3M company name is not a household word, the company's products are certainly a part of our daily lives. Whether you realize it or not, it is estimated that you are exposed to 100 3M products every day, from the Post-It notes that remind you to pick up milk on the way home to the tamper-resistant film on your drivers license.
With more than 55,000 products and 489 U.S. patents issued in 2008 alone, 3M had to be innovative and forward thinking in order to remain successful. Recently Alex Cirillo, vice president of community affairs and of the 3M Foundation, spoke at Augsburg about how 3M has created an environment for innovation.
"How do you hire an innovator?" Cirillo asked attendees. More important than where someone went to school or what they studied, he said, is a person's creativity, curiosity, and hobbies. "The broader your interests and the deeper your expertise, the more innovative you'll be."
"Innovation is not an accident," Cirillo said. "It's the practical application of creativity that changes the way we do things." He added that innovation cannot happen in a vacuum, so employees must be encouraged to share with each other.
"Networking is the most important part of the innovation process," he said. 3M regularly "forces" people together to talk about issues, challenges, and ideas and to share their expertise with each other using technology. "It fills your head with possibilities," he said.
Cirillo offered advice for managers to support creativity. "Encourage people to make mistakes," he says. "You cannot micromanage or punish people for failing. You hire the best people and allow them to do what they do best."
(Some of) Cirillo's laws of innovation:
Just because you can doesn't mean you should
There is no such thing as a LTQF (long-term quick fix)
Be multilingual—in different areas and disciplines
Know when to think in black and white or in color—you need all types of thinkers to build a team
Include humor and lightness and have a sense of play
The thing you should work hardest at is to build confidence in your people—be a teacher
Be personally committed and positive
This event is part of the Strommen Executive Leader Speaker Series. The next speaker will be Nicolas Thomley '05 MBA, CEO of Pinnacle Services. Thomley will speak on Feb. 4, 2010 at 5 p.m. in Hoversten Chapel, Foss Center.