News Archives - 2008
Two Milken-award teachers are Auggies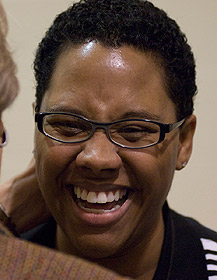 On Tuesday, Oct. 14, two Augsburg alumni, Kelly Woods and Tracey Cross, each received the 2008 Milken Family Foundation's Educator Award. The award is intended to provide public recognition and financial rewards to elementary and secondary education professionals who are furthering excellence in education. Each recipient is recognized with a $25,000 check presented at a schoolwide assembly that often draws state officials and local media.
Cross had this to say about the experience: "Needless to say, I was quite surprised with this award. I never expected this kind of recognition. It is truly an honor to be noticed for doing something I love. I'm still in a surreal state of being. I am very grateful to Lowell Milken and the Milken Family Foundation for recognizing teachers in such a star-like manner."
The foundation selects the candidates based on their exceptional educational talent, their exemplary educational accomplishments beyond the classroom, their strong long-range potential for leadership, and their in spiring presence that motivates students. Confidential nominations are sent to Milken from participating states' blue-ribbon committees. The Milken foundation has posted profiles of both Woods and Cross to explain why they deserved the awards.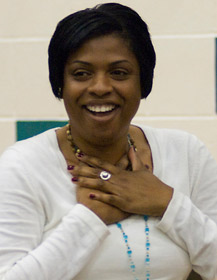 Woods finished her student teaching with Augsburg in 1998, while Cross did the same in 2001. Education Professor Gretchen Irvine wasn't surprised that these teachers earned their awards. "Tracey's leadership certainly showed when she contacted many people to find mentors for her current program at Galtier [Magnet Elementary School]," Irvine recalls. "She went beyond the doors of her school." As for Woods, "she was very committed to the city even then -- she saw herself as an urban teacher." Education Professor Susan O'Connor echoed that by saying "[Woods] was very positive and very committed to making sure all kids got what they needed. I could see her being very strong on building relationships with students, families, and coworkers."
Woods and Cross are not the first Auggies to earn the Milken award. Jacquylynn Brickman received it in 2006 for her work at Elizabeth Hall International Elementary School in Minneapolis. Brickman was on hand during the presentation of Woods' award on Tuesday. Maggie Knutson received the award in 2004 for her work at Orono Intermediate School in Long Lake, MN.
Top: Tracey Cross. Bottom: Kelly Woods. Photos courtesy of the Milken Family Foundation.