News Archives - 2008
Augsburg Admissions World Tour -- Asia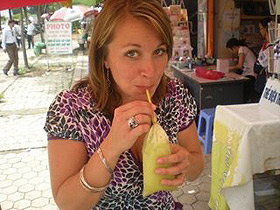 Marissa Machado '99, '04 MAE is the assistant director of international admissions at Augsburg. At the end of September, Machado left her family to travel 19 hours to Hanoi, Vietnam, the first stop on her 19-day recruiting tour. She has been updating colleagues and friends with pictures and stories on the International Admissions blog.
From Asia: Here I come
September 20
I've got a big trip coming up. I'll be leaving for Asia in a little over a week to represent Augsburg at IIE fairs in HCMC [Ho Chi Minh City], Vietnam, Hong Kong, Shanghai and Beijing. I'll also be doing some individual visits with families and visiting several high schools. In total, I'll be traveling for 19 days. There's an excitement about planning for a trip like this...I wonder who will I meet? What connections will I create? Will I sleep? What new foods will I try? And then there's the sadness in leaving my 2 1/2 year old daughter for such a long time. Finding a balance in all of this is something that I am still learning.
In Ho Chi Minh City, Machado spent time with Ana and Mr. Piet, the parents of Tina Nguyen '08. She also experienced the energy of a city of 8 million people and 5 million motorbikes.
From I'll Take a Bird's Nest To Go, Please.
October 5
There are over 5 million motorbikes in HCM alone. Until you have the opportunity to see what 5 million motor bikes in one city looks like you almost can't even imagine it, but let me help you try by sharing the advice that I received from a colleague before traveling to this country for the first time. When I told him that I would be going to HCM city he looked me straight in the eye and said, "Do you know how to cross the street in Ho Chi Minh City?" And I replied, "No." (Obviously…but a rhetorical response seemed necessary.) And with a no-nonsense look on his face he told me, "You just close your eyes and walk." I grinned. A big grin. I found this commentary humorous. He just looked at me and said, "I mean this seriously." He was right.
This year Augsburg welcomed 18 new international students from countries such as Bangladesh, Bhutan, Vietnam, Pakistan, Argentina, Ecuador, Sweden, Slovenia, Indonesia, Nigeria, Norway, and Canada. Some international students hear about the College through friends and relatives who have studied in Minnesota or are Augsburg alumni. Machado is able to meet potential students and their families on her recruiting trips and to help them begin or complete the college admissions process, which can be very daunting for an international student.
From Sharing Augsburg with Vietnam
October 8
One student knew about Augsburg because a friend of hers studied abroad in Minnesota and told her, "Augsburg is the best "University" in the area." This particular student gave me her completed application to Augsburg and told me that she is taking one year off after high school to do community service before beginning her pursuit of higher education. She understands Augsburg. Many students talked about their deep interest in becoming an "Auggie" because of their conversations with a recent graduate of Augsburg who is from Hanoi. They have learned about student life and Minneapolis through emails with her and are "very impressed." Augsburg's alumni understand Augsburg. Our international presence is growing and I am proud.