News Archives - 2007
Auggie Women's Studies graduate reviews election coverage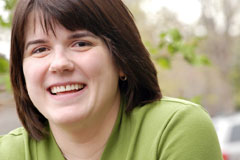 Kristine Haugsland is a 2007 graduate of the Women's Studies program at Augsburg.
In the fall of 2006 she completed an internship with The White House Project, an organization which aims to advance women's leadership in all communities and sectors of the population up to the U.S. presidency. The internship led to her interest in women politicians and how they are portrayed in print media.

Her senior project was "A Report on Fair and Balanced Newspaper Coverage in the Amy Klobuchar and Mark Kennedy Senate Race."
In an election year that reported a record number of women running for political office, Haugsland took the opportunity to study the news coverage surrounding the election. To report on the coverage, Haugsland analyzed the "Minneapolis Star Tribune," collecting articles over a two week period of October 24 to November 7.
To read about her study and her findings go to www.augsburg.edu/womensstudies/news/kristine.html.