News Archives - 2006
Augsburg alumnae receive 'Gold Pen Award'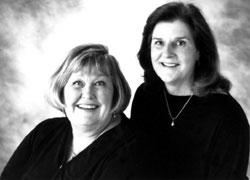 Co-authors of "Growing Up Lutheran" and humorists Janet Letnes Martin and Suzann (Johnson) Nelson, Augsburg class of 1968, were awarded the Metro Lutheran's Gold Pen Award at the newspaper's annual dinner on Oct. 15. The event was attended by 322 guests – the largest dinner in the newspaper's 21-year history.
Their writings were the inspiration behind the musical "Church Basement Ladies," which has played for 62 weeks at the Plymouth Playhouse, has been seen by more than 120,000 people, and is preparing for a 50-city tour, which is booked solid.
In receiving the award, Martin said, "By getting this honor, you know what we wrote wasn't just fluff. It is to honor these women who built the churches on cookies and coffee, especially the immigrant women, when very little was said about the women who held everything together." Nelson added that their writings are about their "rich, religious heritage" and "rural life and culture."
The Gold Pen Award recognizes distinguished service to Christ and the church through significant contribution to public communication, particularly that which stimulates understanding of the relationship between secular and religious communication, and fosters inter-Lutheran communication.